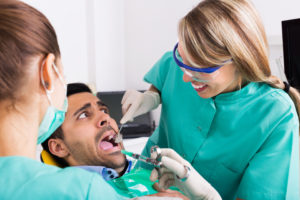 You have your father's eyes and your mother's dental phobia. Does genetic dental phobia sound a little strange? Millions of US adults and children report experiencing some level of anxiety or fear associated with visiting the dentist. If you're one of these fearful dental patients, recent research out of West Virginia University (WVU) indicates your genealogy may be to blame. It's important to keep in mind that the right dentist also has an impact on alleviating both genetic and learned dental phobias and anxieties. That means finding a trustworthy family dentist is essential to help you overcome your dental anxieties or fears.
Is Dental Phobia Passed Down from Parents?
The WVU researchers believe they have found a hereditary link between kids and parents who have dental phobias and anxieties. Approximately 20% of adults experience phobias, and many of these adults have one or both parents who also experience this fear. The study is still not definitive, but researchers believe the hereditary link is in the genes that cause people to fear pain. Further research is being conducted to determine whether there is a specifically inherited gene that causes kids of dental phobic parents to associate visiting the dentist with pain and fear.
How to Avoid Passing Down Dental Fears to Kids
Just because you may have given your child the dental phobia gene doesn't mean you can't help them learn to love the dentist. Make visiting the dentist fun. Start a countdown or reward them with a special treat or fun activity after their appointment. If you're not able to control your own anxiety in the dentist's office, have a trusted friend or family member take them for you. Kids are more likely to have a bad reaction in the dentist's office when they sense their parent's anxiety or fear.
Conquering Your own Fear
If you're a dental phobic parent, it may be time to conquer your own fears, so you can help your children develop a healthy and happy relationship with the dentist. You may want to talk to your dentist about scheduling non-treatment visits. Going to the dentist more often than you need to may seem counterintuitive, but it's important to break down the link your brain is making between the dental office and pain or discomfort. Schedule a consultation visit, take a tour of a new practice, and most of all, communicate with the dentist and staff about your anxieties so they can help you.
Meet the Central Dental Associates Team
Offering comprehensive dental services for Norwood families, the Central Dental Associates team is happy to provide care for anxious patients. In fact, we pride ourselves on helping even the most anxious patients overcome their fears and learn to love visiting our office. It's actually a lot easier than you  might think, and it all starts with making patients the center of their own oral health care and treatment planning. An educated patient is much less likely to be fearful of dental treatments. We honestly explain your treatment options, and we never move forward with any step, until you feel completely confident. If this sounds like the Norwood family dentistry practice you've been looking for, call our caring team. We're happy to answer your questions or schedule an appointment for you to come in and see our office.