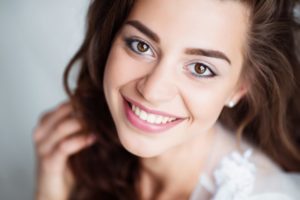 You're already starting to feel nervous for your big presentation at work, and it's still a month away! It's not the content of the meeting that makes you nervous, but rather having to present the information in front of new clients. You know that if this presentation goes well, it could mean more responsibility and a promotion for you; however, you're nervous about your teeth. You've lived with stained teeth that overlap for years, and you feel self-conscious about smiling in front of others, especially new clients. Did you know that your Norwood cosmetic dentist can help you? Here's how.
Teeth Whitening
Perhaps your teeth don't need repair, but they're looking a little dull or discolored? Teeth whitening may be all you need to restore your dazzling smile. This could also be the final treatment on a smile makeover.
In-office whitening treatments produce fast and immediate results, while take-home trays allow you the freedom to whiten your teeth at your leisure, based on your schedule. You might be surprised at the huge impact that whitening your teeth can make on your smile. Many people feel that it takes years off of their appearance.
Cosmetic Bonding
Teeth that need small repairs can benefit from cosmetic bonding. During this treatment, your dentist will use composite resin to cover or repair imperfections such as:
Discoloration
Small gaps and spacing
Size discrepancies
Small fractures and chipping
Excessive wear
Root exposure due to gum recession
Bonding is cost effective and non-invasive, as no tooth structure has to be removed to complete it. Composite can be customized to match your teeth so your bonding seamlessly blends with your smile.
Porcelain Veneers
Porcelain veneers are also a great option for restoring many of the same issues that bonding can correct. However, they can be customized to change the shape, shade, and size of your teeth and completely enhance the appearance of your smile.
Veneers are comprised of a thin layer of porcelain that fits over your tooth to cover imperfections. Veneers are easy to take care of, as you'll be able to brush and floss normally. They are also stain resistant, so you won't have to think about whitening your teeth.
No matter what type of situation you face with your teeth, cosmetic dentistry has effective solutions that can help you achieve the smile you've always wanted.
About Central Dental Associates
Central Dental Associates is comprised of a highly skilled team of dental specialists dedicated to meeting your needs and exceeding your expectations. This explains why they are the Norwood dentists that patients trust.
Because of our team's skill and specialties, we can typically meet all of your dental needs here at our practice, so you will not be referred elsewhere for aspects of your care.
Do you have questions about cosmetic dentistry? You can contact us through our website, or at 781-769-3566.