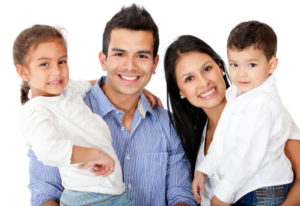 Welcome to Central Dental Associates! If you and your loved ones are looking for a family dentistry practice in Norwood, our office might be right for you. We offer a wide range of dental treatments to meet the needs of patients of all ages, and for your convenience, we offer early morning, evening, and Saturday appointment times to fit even the busiest family's schedules. If you'd like to bring your whole family to see us on the same day, we can even set aside a block of appointments. We do our utmost to make dental care convenient and comfortable for every member of the family. Don't hesitate to contact us to find out more or schedule your appointment today.

What is a Family Dentist?
A family dentist is a general dentistry practitioner who is happy to offer patients of all ages, from 1 to 101, comprehensive dental care to keep them smiling year after year. Family dentists do their utmost to make caring for the dental health of every family member convenient. With a focus on prevention, we partner with every patient we see to keep their smiles whole and healthy at every age and stage of dental development.
Don't Kids Need to Visit a Pediatric Dentist?
Most kids don't need to see pediatric dentistry specialists. Like other dental specialties, we refer young patients to a pediatric dentist if they need specialized treatments. In the early stages of treatment, we may notice that kids have developmental concerns like teeth that don't erupt, severe jawbone or facial distortion, and other serious issues. For the majority of young patients, this won't be necessary.
What are the Benefits of Family Dentistry?
Family dentistry is a great option for many of our patients, and there are numerous benefits associated with bringing your whole family to the same dental office including:
Because you'll only have to make appointments with one office (often on the same day) for the whole family, dental care is more convenient and you're more likely to keep up with the necessary preventive treatment appointments
Young patients are often more comfortable with dental care throughout their life because you're with them at our office and because they don't need to transition between dentists at a young age, which can be unnecessarily stressful
We can offer growing kids more consistency because we have cared for their smiles at every stage of development