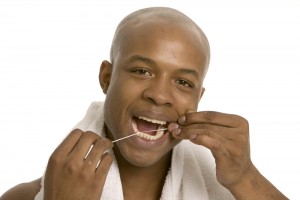 While we all know it's important to floss, it doesn't mean we're all actually doing it. Today, the staff at Central Dental Associates wants to teach you about flossing and how important it is to the health of your smile.
Unfortunately, brushing alone isn't enough to maintain the health of your smile.  Plaque can accumulate between your teeth and can lead to decay. Also, plaque can harden into tartar and can irritate your gums, inflaming your gums and increasing your risk of gum disease.
Flossing is important because it cleans in between your teeth, thus preventing a buildup of plaque. Brushing just cleans the tops and sides of your teeth. Your smile is not truly clean until you use both techniques together. This article from Colgate discusses proper flossing techniques, and we can demonstrate them for you at your regular checkup. If you're having trouble flossing, try getting a pre-threaded flossing tool. They can be found in packages at drugstores and are inexpensive.
Flossing needs to be an integral part of your oral health routine to ensure the health of your smile. By taking a little time out of your day to floss, you'll see a big difference in your smile. If you have any questions, don't hesitate to call us. We're here to help.
Visit our contemporary practice and learn why Central Dental Associates has been Norwood's premier choice for family and restorative dentistry since 1965. We're located in Norwood, MA at Chestnut Green, convenient to patients from Walpole, Westwood, Medfield, Dedham, and surrounding areas. Call us today!