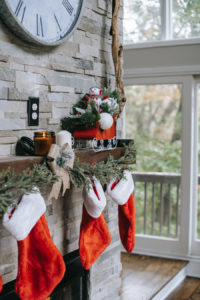 The holidays are right around the corner, which means you're on the hunt for the perfect gifts and stocking stuffers for your family. While you could stuff their stockings with their favorite candy and sweet treats, you don't want tooth decay to come back to haunt your loved ones' smiles. You don't have to forgo stocking stuffers to protect their dental health. Here are 3 smile-friendly ideas to fill their stocking.
1. New Electronic Toothbrushes
People young and old often view brushing as a chore, but you can add a little excitement to your family's oral hygiene routine with new toothbrushes. Although manual toothbrushes are effective, nothing matches the brushing power of an electric model. They offer more brush strokes per minute and many come with extra features, like pressure sensors. This can be great for someone with a habit of rushing through brushing or pushing too hard with their toothbrush. When shopping for the perfect brush, look for one that has earned the American Dental Association's Seal of Acceptance. Don't forget to keep the size of the brush head in mind if you'll be giving it to a young child.
2. Multiple Flossing Options
Flossing is equally important as brushing to prevent gum disease, which affects 50% of adults. However, 58% of Americans never floss. You can encourage healthy gums by tossing different flossing options into your family's stockings. Traditional floss comes in many flavors, which can be appealing to children. If they struggle to use regular floss, consider adding a pack of flossers. A waterflosser is also an excellent option for children or older loved ones. A gentle stream of water removes food particles, plaque, and bacteria from the most hard-to-reach places.
3. Choose Chocolate Candy
If you can't resist adding something sweet, choose chocolate instead of taffy, peppermints, or candy canes. Although too much sugar can lead to cavities, an occasional sweet treat won't hurt. However, not all candy is equal in the eyes of a dentist. Chewy candy clings to teeth and is difficult to remove. Hard candy must be held in the mouth to dissolve, which bathes teeth in cavity-causing sugar. Chocolate rinses from teeth easier and doesn't linger in the mouth for too long. Adding a piece or two of chocolate will satisfy their sweet tooth without harming their smile.
Support Healthy Holiday Smiles
While you shop for stocking stuffers and gifts to put under the tree, don't forget to schedule your family's semi-annual cleanings and checkups. You'll ensure a dental emergency doesn't interrupt your holiday plans, and everyone will start the new year with a healthy, beautiful smile.
About Dr. Robert L. Viventi
Dr. Viventi earned his dental degree from Tufts University and has regularly continued his education in advanced studies, like restorative dentistry. He combines his qualifications and experience with the latest techniques and technologies to create generations of healthy smiles. If it's time for your next cleaning and checkup, contact our office today to request an appointment.