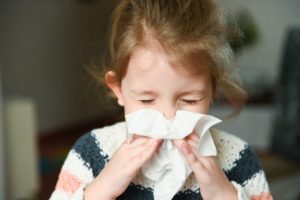 While there are so many things to enjoy in the colder months of the year, the increase in cases of flu and colds is not one of them! As a loving parent, you want to do all you can to ensure your child's health during this time of illness. While protecting their overall well-being is important, helping them keep their smile safe from cavities and bacteria is equally crucial. Read on to learn three tips to maintain your little one's pearly whites during the flu and cold season!
Tip #1: Keep Your Child's Dental Routine a Priority
When it gets cold, it can be tempting to forgo regular routines to stay cozy under blankets! However, it is essential that your child's teeth be cleaned at least twice a day. Regular brushing washes away cavity-causing particles and is the best defense against tooth decay! If your little one is under the weather and does not have the energy to come to the bathroom for their dental routine, you can bring a "Tooth Tray" to them. Along with their toothbrush and toothpaste, provide a glass of water and a spitting cup for easy on-the-spot cleaning. Everyday tasks can be quite a challenge with a cold or flu, so making it more convenient for them to brush their teeth will help ensure that their oral health is still a top priority!
Tip #2: Replace Their Toothbrush
While it's best to replace your and your child's toothbrush every three to four months, most dentists recommend changing out their old one immediately after experiencing any kind of sickness. Harmful germs and bacteria remain within the bristles long after your little one has recovered. To avoid reinfecting them (or spreading illness to other family members), make sure to throw the old toothbrush away and allow them to pick out their next one. If you're in a pinch, you can boil the toothbrush in hot water for a few minutes to temporarily sanitize it.
Tip #3: Be Sure to Provide Plenty of Hydration
Drinking lots of water is one of the best remedies to recover from a cold or the flu. Staying hydrated helps your child's immune system, but it also protects their oral health. If their nose becomes stuffy, it can make it difficult to breathe without opening their mouth, especially when they're asleep. This can easily lead to dry mouth, which decreases saliva production. How does this affect their teeth? Saliva washes away harmful bacteria and food particles, which can increase their risk of decay, cavities, and infection. Be sure to encourage them to consume plenty of water throughout the day to keep their teeth and gums clean. If they don't enjoy plain H2O, you can add fruit slices for extra flavor, as well as nutrients.
With these helpful tips, your child's smile can remain happy and healthy all throughout the flu and cold season!
About the Practice
Central Dental Associates serves Norwood and the surrounding areas through the expertise of their team of dentists. With the belief that good oral health leads to better physical health, they provide a range of dental services for you and your whole family. Through personalized plans, their preventive care will help keep your child's smile whole and healthy all year long! To schedule an appointment, contact them through their website or call (781) 769-3566.