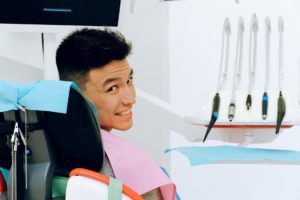 Now that the holidays are over, it's time to get back into your usual routines, which means life can get pretty busy quickly. While you focus on your daily responsibilities and New Year's resolutions, don't forget to keep a healthy smile at the top of your priority list. Although you have all year to schedule an appointment, here are 5 benefits of seeing your dentist for a cleaning and checkup sooner rather than later.
1. The Holidays Can Haunt Your Smile
Believe it or not, the holidays can be a bad time of the year for your dental health. Although the season only lasts for a few weeks, sweet treats and more snacking can increase your risk of decay.
A routine dental appointment early in the year will ensure the holidays don't come back to haunt your smile. Your dentist will examine your mouth to look for anything concerning, like weakened enamel.
2. Support a Healthy Mouth and Body
Your mouth is the gateway to your body, which means your oral and general health are closely connected. Many dental issues can affect your wellness, like gum disease. The preventable infection is linked to an increased risk of various health concerns, like heart attack, Alzheimer's disease, and diabetic complications.
A semi-annual cleaning and checkup will ensure your teeth and gums are healthy. You'll invest in the mouth and body connection to feel your best in 2023.
3. Your Dental Insurance Benefits Have Reset
Paying your monthly premiums for your dental insurance is an investment in a healthy smile. Your benefits reset on January 31st, which means you have access to comprehensive coverage that's designed to keep your smile healthy.
You'll benefit from reduced rates to stop common oral health problems from occurring in the first place. Preventive services are covered 100% after a copayment, so you don't have to worry about a large dental bill.
4. Reduce Your Oral Health Expenses
Dentistry focuses on prevention to avoid needing costly treatments later by preserving your smile. You can save $50 on restorative fees for every $1 spent on prevention care, which is great if you're looking to cut your expenses in the new year.
5. Avoid Dental Emergencies
1 in 6 Americans has a dental emergency annually. Many are caused by untreated oral health problems, like tooth decay, failing restorations, or infections.
A quick trip to your dentist will lessen the likelihood of an unexpected oral health issue interrupting your day.
There isn't any better time than the present to recommit to your smile. A cleaning and checkup is a great way to kick-start the new year with healthy teeth and gums.
About Dr. Robert L. Viventi
Dr. Viventi earned his dental degree from Tufts University and regularly continues his education in advanced specialties, like restorative procedures. He creates personalized treatment plans to help each patient achieve their best smile. If you need a cleaning and checkup, request an appointment through our website or call (781) 769-3566.