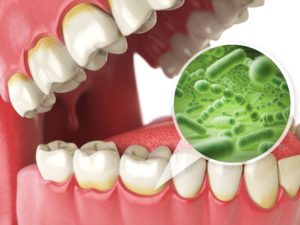 Did you know 120 million Americans are missing at least one tooth? Decay is a common culprit of tooth loss, but cavities aren't the only cause. Gum disease is also a leading contributor to missing teeth. The Centers for Disease Control and Prevention reports that 50% of adults have the infection. Not only can it result in an incomplete smile, but the infection can wreak havoc on your health. Your smile doesn't have to become another victim of gum disease. Here are 3 ways you can keep your gums healthy using your dental insurance.
1. Schedule a Cleaning and Checkup
Paying your monthly premiums gives you access to affordable dental care that's designed to keep your teeth and gums healthy. Your benefits include 100% coverage for preventive services. You can visit your dentist every 6 months for a cleaning and checkup after a copayment.
Your dental hygienist will remove tartar buildup that harbors harmful bacteria that can infect your gums. Your dentist will examine your mouth to look for anything concerning, like gum inflammation. They'll measure the depths of the gingival pockets to ensure your gums are healthy. If they find anything concerning, they'll recommend periodontal therapy.
2. Don't Delay Gum Disease Treatment
Although every policy differs, most dental plans can cover up to 80% of the expense of gum disease therapy. After meeting your deductible, your insurance will pay a portion of the cost for common procedures, including:
Scaling and Root Planing: Also known as a "deep cleaning," the procedures remove tartar from above and below the gum line. The root surfaces are smoothed to allow the gum tissue to adhere to the teeth.
Flap Surgery: A small cut is made in the gum tissue to lift back a section to remove tartar and bacteria. The tissue is sutured back to seal the teeth to prevent reinfection.
Bone Grafting: Bone grafting repairs areas of the jaw weakened by the infection.
Gum Grafting: Tissue from a donor or another area of the body is grafted over exposed tooth roots.
Antibiotic Therapy: Oral or topical antibiotics can be used to treat the infection.
Laser Dentistry: A soft tissue laser targets infected tissue to restore gum health.
Your insurance may cover more frequent cleanings and checkups to prevent the infection from recurring.
3. Don't Wait Until It's Too Late
Your dental insurance doesn't last forever. It expires at the end of the year. You'll lose anything you haven't used and nothing will carry over into the upcoming year. Don't wait until it's too late to invest in your gum health.
Your dentist will help you maximize your dental insurance to keep your mouth and body healthy.
About Dr. Robert L. Viventi
Dr. Viventi achieved his dental degree at Tufts University and continued his education with a focus on advanced restorative procedures. He strives to provide personalized services to achieve optimal oral health. If you have dental benefits you're about to lose, contact our office today to request an appointment.