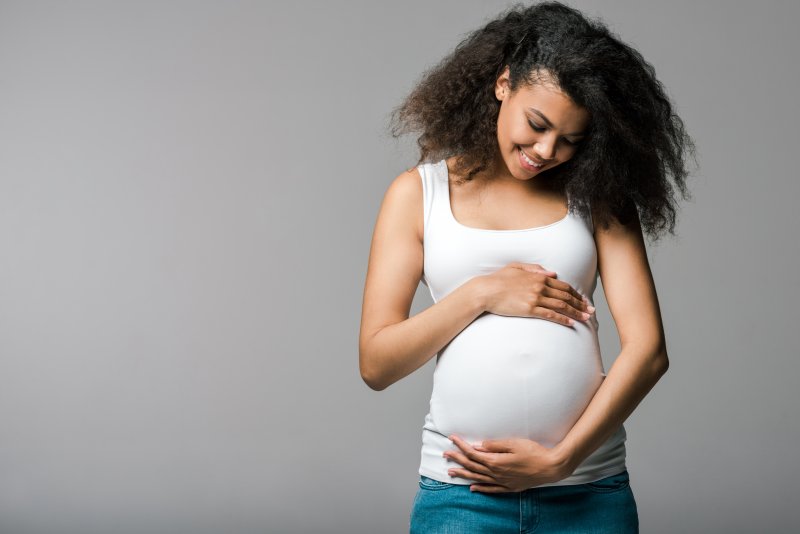 In the months before someone gives birth, there's a lot to do to prepare for the baby. From attending doctor's appointments to preparing your little one's nursery, it can be hard to find time for yourself. After working hard for a long time to make sure your baby will be comfortable and happy, you may be thinking about treating yourself to something nice, like dental implants to fill in the gaps in your smile. But is it safe to undergo this procedure while you're pregnant? Read on to find out everything you need to know about getting dental implants during pregnancy.
Is It Safe to Get Dental Implants During Pregnancy?
Tooth loss can take a serious toll on your oral health. Missing teeth can lead to jawbone deterioration, which may jeopardize your facial structure and can lead to additional tooth loss. According to the American Dental Association and the American College of Obstetricians and Gynecologists, you should speak with your dentist to learn what tooth replacement options are available. Although you can have dental implants placed after the first trimester, many dentists recommend waiting until you've given birth.
Why It's Safer to Wait Until You've Given Birth
There are several reasons why you're better off waiting until you've had your baby to get dental implants, including:
Increased hormones – When you're pregnant, your body sees a drastic rise in hormone levels. This leaves you more vulnerable to gum disease than usual, which significantly increases the likelihood of implant failure.
Post-op complications – Dental implant aftercare usually involves taking antibiotics and powerful pain medicine to minimize discomfort and decrease your chances of infection. However, many of these medications aren't safe to take while pregnant, which complicates the post-op process.
Other risks – Things like strong anesthetics and X-rays may also make the dental implant process unsafe during the first trimester.
6 Tips for Preparing for Dental Implants
Even though you may have to wait to fill in your smile, there are a few best practices to implement until then to make sure the implant procedure goes smoothly, including:
Brush – Every morning and every night, brush your teeth for two full minutes to remove plaque, bacteria, and food particles. If you're experiencing morning sickness, rinse your mouth out with clean water, wait 30 minutes, then brush with a soft-bristled toothbrush.
Floss – Before you go to bed, floss your teeth to remove plaque and food particles that can't be reached with brushing alone.
Visit your dentist – Every six months, make an appointment to see your dentist for a checkup and cleaning. This will allow them to ensure that you don't have any oral health issues that need treatment.
Eat a balanced, vitamin-rich diet – Make sure your diet consists of dentist-approved foods like lean meat, fiber-packed fruits and veggies, and low-fat or fat-free dairy.
Limit your sugar consumption – Harmful oral bacteria feed off of sugar and release acids that can damage your enamel. Cut back on your sugar intake to lessen your chances of developing cavities.
Drink plenty of water – Water helps prevent dry mouth and washes away food particles and harmful oral bacteria, so make sure to stay well hydrated.
Though it's possible to get dental implants while you're pregnant, it's safe to wait until after your baby is born. With the above tips, you'll be able to ensure that your smile is as healthy as possible by the time you can safely have your missing teeth replaced. Before you know it, your smile will be as good as new!
About the Author
If you're pregnant and want to get dental implants to replace missing teeth, one of the six talented dentists at Central Dental Associates can help you determine if it's the right move. They can explain the process and the risks it may present to pregnant people so you can make a safe, informed decision for yourself and your baby. To make an appointment or for more information on dental implants, call (781) 769-3566 or visit their website.