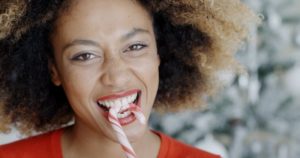 It's no secret that many of the most popular holiday treats aren't exactly the healthiest. From Halloween candies to Christmas cookies, most people consume more sugar than they should be during the last three months of the year. As you might expect, all of that sugar can wreak havoc on your dental health. But is the holiday season really the worst time of year for your teeth? As any dentist will tell you, the answer is yes! Read on to learn a few reasons why, as well as some tips for preventing cavities this holiday season.
Why Is the Holiday Season Bad for Your Teeth?
There are a few reasons why dental health problems like tooth decay and gum disease are more common around the holidays:
Sugary Sweets Galore
Pumpkin pie, candy canes, and other holiday staples are chock-full of sugar. Overindulging in them attracts bacteria that produce acids that eat away at your tooth enamel, causing cavities.
Grazing on Snacks
Many of us spend Thanksgiving and Christmas catching up with loved ones while snacking throughout the day. Unfortunately, grazing doesn't give your saliva a chance to clean the bacteria from your teeth after eating, which increases your risk of decay.    
Throwing Off Your Routine
It's easy for your normal oral hygiene routine to get thrown out of whack this time of year, especially if you're traveling. Whether you forgot to pack your toothbrush or you stayed up too late with family and fell asleep without brushing, failing to clean your mouth as often as you typically do can lead to disaster.
How to Protect Your Smile During the Holidays
Just because it's the holiday season doesn't necessarily mean your oral health is doomed. There are plenty of things you can do to keep your smile safe:
Only eat at mealtimes – By reducing the number of times you eat per day, you give your teeth a better chance of protecting themselves from bacteria and acids.
Drink plenty of water – Water rinses lingering food particles off your teeth, preventing them from causing harm.
Brush and floss when you can – Remember to pack your toothbrush, toothpaste, and floss if you're traveling. Also, set reminders to clean your teeth at least twice a day.
Limit hard, sticky, and sugary foods – Hard candies, caramel, gummy candies, and other seasonal sweets can all too easily damage your teeth.
Schedule a dental appointment – The end of the year is a great time to book your routine dental cleaning if it's been more than six months.
The holiday season is by far the worst time of year in terms of your dental health, but by keeping the tips above in mind, you can start the new year off on the right foot with a healthy smile!
About the Practice
Our team at Central Dental Associates has served patients of all ages in the Norwood, MA area for more than 50 years! With several general dentists as well as multiple specialists under one roof, we can conveniently meet all of your family's dental needs in the same place. We take a proactive approach to dental care, so we're happy to help you prevent oral health problems that arise during the holidays. To learn more, contact us by calling 781-769-3566.