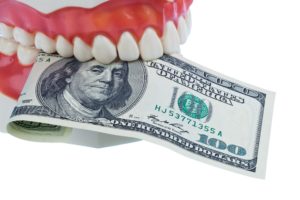 Teeth are designed to last for a lifetime, but that's not a reality for many Americans. According to U.S. Census data, over 44.99 million Americans used dentures in 2020. They are a tried-and-proven solution to treat significant tooth loss, but it's normal to have concerns about the cost of dentures. You can afford to restore your missing teeth, even if money is tight. Here are 4 factors that will influence the amount you'll pay.
1. Preparatory Work
Most people who have lost several or all their teeth throughout an arch are candidates for dentures; however, some patients need a little prep-work. After examining your mouth and discussing your goals, your denture dentist will create a personalized strategy to ensure the best results. It's not uncommon to need preparatory procedures, like tooth extractions or periodontal therapy. The additional treatments will increase the cost, but you may be able to use your dental insurance to offset the amount you'll pay.
2. Type of Denture
You have more options than ever to replace your missing teeth. Depending on the number of teeth you've lost, there might be multiple solutions to fill the gaps in your smile, which will affect the price, such as if you choose a:
Partial denture
Full denture
Implant-supported denture
3. Materials
You don't want to choose the cheapest materials for your dentures. Although they may cost less, you'll pay more down the road. Discounted materials are low quality, which means they won't last very long. Not to mention, they may not look or feel very natural. It's better to invest in high-quality materials because the saying "you get what you pay for" is true.
4. Specialists
The experience and qualifications of the dentist you choose will also affect the cost, such as if they are a periodontist. Although they may have higher fees, you'll have peace of mind knowing your smile is in reputable hands.
Keeping Dentures Affordable
Everyone deserves to have a complete, confident smile. Your dentist will help you find the options you need to keep dentures within your budget. Besides traditional payment methods, you can keep your new smile affordable using:
Dental Insurance: Every policy differs, but most policies can be used to lower the cost of certain steps in your treatment. While your benefits won't cover the entire amount, they can pay 50% to 80% of the cost for certain portions of your plan, like extractions.
Third-Party Financing: Based on your credit approval, you can make monthly payments for your dentures using third-party financing, like CareCredit.
Don't let the cost of dentures prevent you from looking and feeling your best. Your dentist will help you invest in your smile without breaking the bank.
About Central Dental Associates
Central Dental Associates features a diverse team of dental professionals specializing in the most complex procedures, like dental implants. With various specialists in-house, we can meet everyone's needs while keeping our services affordable using your dental insurance. If you're ready to treat your tooth loss, contact our office today to schedule your denture consultation.