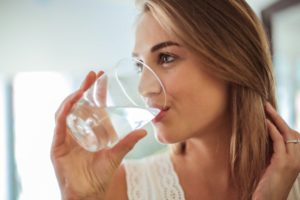 Has your mouth ever been so dry that it almost felt like sandpaper? Dry mouth, also known as xerostomia, is more than just a nuisance. It may lead to serious dental health problems, to which people of any age can be vulnerable. In fact, dry mouth impacts an estimated 65% of people at some point in their lives. In this blog post, a dentist in Norwood discusses the dangers of dry mouth, its causes for people in various age groups, and how you can fight it.
Why Dry Mouth Is Dangerous
When it comes to preventing cavities, saliva is your teeth's first line of defense. It rinses away food particles and bacteria that would otherwise linger on your teeth and contribute to plaque buildup, tooth decay, and gum disease. It also contains vitamins that help to strengthen teeth and shield them from everyday wear and tear.
Dry mouth is a sign that your body is not creating enough saliva. Inadequate saliva production is associated with not only bad breath, but a higher risk of cavities and gum infections.
What Causes Dry Mouth?
People in all age groups may develop dry mouth for a variety of reasons:
Children may develop dry mouth as a result of frequent mouth-breathing, excessive fluid loss, certain medications, or medical conditions (such as diabetes or Sjogren's syndrome).
Adults may suffer from dry mouth for similar reasons as kids. Medications for health issues like high blood pressure, Parkinson's disease, or the flu may worsen symptoms.
Seniors are more likely to develop dry mouth than any other age group. This is because they're more likely to suffer from general health issues, making them more likely to take medications that cause dry mouth.
How You Can Combat Dry Mouth at Any Age
Here are a few tips for fighting dry mouth no matter how old you are:
Chew sugar-free gum or suck on sugarless mints or candies. This promotes saliva production.
Sip water throughout the day. You should also reduce your consumption of alcoholic and caffeinated beverages.
Cut back on salty foods. Many processed salty foods dry out the mouth.
Breathe through your nose. If your nose is too congested to easily breathe through, try a saline nasal spray.
Talk to your doctor about your medications. They might be able to switch yours out for ones that come with a lower risk of dry mouth.
Use a mouthwash designed to alleviate dry mouth. Some over-the-counter mouth rinses may help you, but your dentist in Norwood can recommend particular mouthwashes based on your unique oral health needs.
No matter your age, dry mouth is a serious problem. If you or someone you love is struggling with it, take the steps listed above to reduce the risk of dental health problems.
About the Practice
Our team at Central Dental Associates has been dedicated to providing patients in the Norwood, MA area with top-notch dental care for more than 50 years! We currently have a team of six skilled dental professionals with several combined decades of experience under their belts. To learn more about combatting dry mouth and keeping your smile healthy, visit their website or call (781) 769-3566.