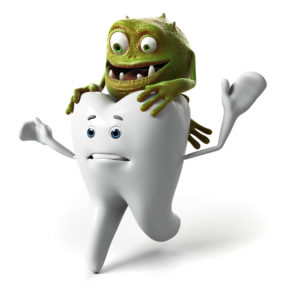 When it comes to maintaining excellent dental health, an emphasis is placed on controlling the growth of oral bacteria. With that in mind, how many are present in your mouth at any given time? Continue reading to get the shocking answer, and to discover what you can do to encourage healthy and strong teeth and gums.
How Many Bacteria are Present?
It's nearly impossible to accurately determine how many bacteria are present inside the mouth at any given time, but some estimates are as high as 20 billion. Additionally, researchers have determined that there are 500 to 650 species. Bacteria aren't discriminating about where they domicile, as they can be found on the tongue and teeth, and in the biofilm that coats the cheeks and oral mucosa. Their numbers can change rapidly, depending on the types of foods and beverages you consume and the quality of your dental hygiene.
How Fast Can Bacteria Grow?
When observed in a petri dish, some species of oral bacteria can double their numbers in as little as 20 minutes. However, this isn't as easy a task to accomplish when living inside the human mouth, as there are competitors. It should be noted that a person's dental hygiene regimen can serve as a major hinderance to their growth – which is a good thing!
For more context, consider that a person swallows about 1 liter (1,000 ml) of saliva each day. Given that researchers have found that 1 ml of saliva contains about 100 million microbes, it's estimated that humans swallow up to 100 billion microbes of bacteria every 24 hours.
What This Means for Your Oral Health
If allowed to grow unfettered, oral bacteria soon harden (within 48 hours) into plaque and can contribute to tooth and gum decay. Ignored, oral bacteria can also lead to the following problems:
Cavities
Tooth loss
Bad breath
Gum recession
Gum bleeding (gingivitis)
Periodontitis (gum disease)
Greater susceptibility to high blood pressure, stroke, cardiac arrest and heart disease
Thankfully, you can manage the number of bacteria present in your mouth by committing to brushing and flossing your teeth at least two times a day. It also helps to limit your sugar consumption, as it's the primary food of oral bacteria.
You have an additional and key ally in your fight against oral bacteria growth: your dentist in Norwood. By visiting every six months for cleanings and examinations, you'll become even more of a nuisance for the microorganisms that seek refuge inside your mouth. The result will be healthier and more attractive teeth and gums!
About the Author
Dr. Robert L. Viventi earned his dental degree from Tufts University. For over 30 years, he has been a fixture in the community, offering compassionate and competent care. With an unwavering desire to continuously learn, Dr. Viventi receives several hours of advanced postgraduate training annually to further expand his knowledge. He provides preventive dental care at Central Dental Associates, and he can be reached for more information through his website.