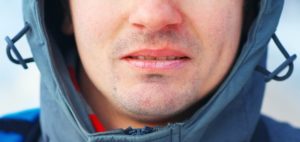 Cold weather usually means sweaters, heavy coats, boots, and hot drinks to warm you up. But for some, it also means increased oral problems. Issues like sensitive teeth, dry mouth, and chapped lips can make your winter miserable if you don't know how to prevent or manage them. Luckily, your dentist in Norwood can help! Read below to learn a few tips and tricks to keep common winter mouth complications from ruining your holiday season.
Canker Sores
Canker sores can appear on your gums, under your tongue, or the inside of your cheek or lip. These small ulcers can make it painful to talk or eat. Sometimes, they are a result of consuming high acidity items like figs or apple cider. When these little buggers pop up, try mixing one teaspoon of salt and a half-cup of warm water and swish it around in your mouth for 15-30 seconds. This cleans the sores and helps speed up the healing process. You can also apply Manuka honey to your sore. Studies show that this unpasteurized, unfiltered honey can reduce pain, size, and redness. It may also help prevent a secondary infection.
Tooth Sensitivity
Eating or drinking things with extreme temperatures may make you wince, but winter winds can make it even more painful. Tooth sensitivity can be the result of a few problems like:
Worn-down enamel
Exposed roots
Fractured or chipped tooth
Cavities
If you're unable to get to the dentist for treatment, try using a desensitizing or a fluoride toothpaste. These can help block the pain so you can enjoy your favorite hot or cold foods.
Dry Mouth
Cold air, certain medications, and even catching the flu can all cause cotton mouth. The colder the temperatures, the more moisture is pulled from your body, so it's important to stay hydrated and drink plenty of water. You can also try chewing sugar-free gum or using an over-the-counter dry mouth rinse for relief.
Chapped Lips
Dry, cracked lips can put a damper on already dreary winter days. Cold winds and the sun, even on a cloudy day, can damage this delicate skin if you don't protect it properly. Your first instinct may be to lick your lips, but saliva evaporates quickly and leaves lips even drier. Instead, apply a lip balm with SPF 15. Another great option is to use a humidifier during cold months. They add moisture back into the air and your skin.
Protecting your mouth throughout the year is important, but it is especially key during the winter. If you have sensitive teeth or any other winter mouth complications, you have options. Taking a few simple steps can keep you comfortable this season and let you focus on closing out the year on a positive note.
About the Author
The team of dentists at Central Dental Associates offers patients effective dental care in a professional environment. Their modern techniques and range of specialties allows them to provide you and your family with services from preventive care and general dentistry to periodontal services and more. For help with sensitive teeth or other winter mouth woes, contact the office at (781) 769-3566, or visit their website.