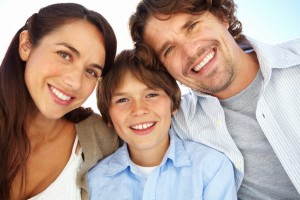 You love seeing your little one smile — especially when you know those precious white teeth are not just adorable, but healthy, too. At Central Dental Associates, we're passionate about taking care of the latter. In fact, we pride ourselves on building the healthy, beautiful smiles children and adults in our community enjoy. If you still haven't found an excellent children's dentist in Norwood, why don't you give the Central Dental team a try?
Children's Dentist in Norwood Provides Calm, Compassionate Care
Your child's first teeth are so precious. But did you know even the very first one is vulnerable to decay and infection,? That's why we recommend your child begin seeing the dentist around the time their first tooth appears, with regular checkups beginning by the time they're celebrating their first birthday.
Age one may seem a little soon to begin regular visits, but these checkups are a crucial step to ensuring your little one enjoys their healthy smile for a lifetime. Why? Let's take a closer look at what you can expect at your child's dental checkups in Norwood.
First Visits Build Trust
Chances are good that your child won't need any special care during their first few years, but these visits are important for another reason. They introduce your child to dental care, and signal to him or her that there's nothing to fear from the dentist. And when they see that you value good oral health by taking care of your checkup and cleaning at the same time, they'll understand from an early age that their healthy teeth are something to truly value.
Older Children Benefit from Preventive Care
As your child gets older, they may need a little extra help to keep their smiles as healthy as can be. That's because ages six to 14 are the most cavity-prone years — but we can help with these wonderful preventive steps.
Dental sealants: Clear coverings painted onto the surface of back molars to help "seal" out decay-causing bacteria.
Fluoride treatments: Quick applications of the mineral fluoride do a lot to strengthen children's teeth from decay.
Education: Your Norwood children's dentist can also help you by reinforcing good oral hygiene habits in your child. We take a caring, calm approach with young patients, helping them understand the importance of regular brushing. flossing and other good dental habits.
Schedule Your Child's Appointment Today
Help your child enjoy healthy teeth for years and years to come by scheduling a children's checkup today. We're the team providing Norwood children with the compassionate, considerate and comfortable dental care they need!