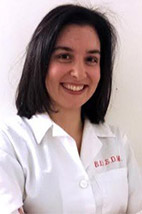 You already know you can trust the team at Central Dental Associates with your oral health, and we're excited to let you know we've just welcomed one more expert into our passionate group of Norwood dentists! Dr. Ana Mattos is the newest member of our team, and we know she's just as thrilled to be here as we are to have her. Keep reading to learn about the newest dentist in Norwood!
Dr. Ana Mattos brings her passion to Central Dental Associates
At Central Dental Associates, we are proud of our ability to serve a variety of dental needs by crafting a team of doctors with different areas of expertise. We're confident that Dr. Mattos' unique skillset and experience expands our ability to serve a variety of patients.
Educational background
Dr. Mattos grew up in Brazil and moved to the United States with her family when she was in high school. She attended the University of Michigan and received her bachelor's degree in Cultural Anthropology and Biology, then went on to complete a master's in Medical Sciences from Boston University School of Medicine. After completing both degrees, she earned dental degree from the same school in 2012.
Dr. Mattos didn't stop there, of course. Passionate for her field, she continued to focus in general dentistry by completing two years of residency through the Lutheran Medical Center. Following her General Residency Program in Dentistry in New York, she returned to Michigan for the Advanced Education Program in General Dentistry. That long, impressive educational journey led her to be the truly excellent doctor that she is today — and the newest member of the Central Dental Associates, too!
Patients served
Dr. Mattos is passionate about serving children and adults alike with quality dental care. She's also fluent in Spanish and Portuguese, and enthusiastically welcomes patients from a variety of cultures.
When she's not busy creating healthy, beautiful smiles for Norwood residents and neighbors, Dr. Mattos enjoys spending time with her family and friends, cooking, traveling and exploring new places and ideas. We know you'll love Dr. Mattos, but don't take our word for it. Come meet her for yourself by scheduling your appointment at Central Dental Associates today!