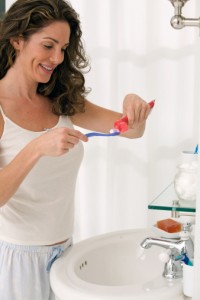 The average person brushes their teeth over 40,000 times and uses over 80 liters of toothpaste. The tarter build-up fighting, brightening, whitening toothpaste we enjoy today has not been around for very long. In fact, it has only been around in its modern day form for about 60 years. Toothpaste as we now know it has been on a long road of innovation and invention. The experienced team at Central Dental Associates wants to help you learn more about protecting your teeth. Contact Central dental Associates today for your next appointment at their Norwood, MA dental office. The doctors of Central Dental proudly serve Norwood, MA, Walpole, Westwood, Medfield, Dedham, and surrounding areas.
Early Toothpaste Formulas
The search for an effective toothpaste formula has gone on for thousands of years. The ancients were constantly seeking prevention and remedy for toothaches, tooth decay and bad breath. This search led to incredibly bizarre concoctions and formulas. As early as 5000 B.C. the Egyptians created a formula for toothpaste that consisted of mint flowers, salt and pepper. Unfortunately, it also had the side effect of making the gums bleed. Today we use baking soda as the abrasive in toothpaste which polishes our teeth.  As early as 500 B.C. in Rome, China and India some of the abrasives used were made from crushed fish bones and egg and snail shells, brushed on with sticks or cloths.
Advances in Toothpaste
It wasn't until the early 19th century that the modern toothbrush and toothpaste began to take shape. The popular formula for toothpaste at this time consisted of chalk, salt and glycerin sold in jars, not tubes. An American dentist named Dr. Peabody was the first to add soap in 1824. The modern tube toothpaste can be attributed to a father son in Connecticut. Dr. W.W. Sheffield and his son had developed tube toothpaste by 1892, first Inspired by the tubes of paint used by painters. At this time it was known as "crème dentifrice".
Modern Toothpaste
In 1896, Colgate began marketing metal tubes of toothpaste that wound up with a key. The healthy effect of fluoride on teeth was revealed by accident in 1901 when a dentist in Colorado Springs found that the local population he treated developed significantly fewer cavities than other populations. It was discovered that this was due to naturally elevated levels of fluoride in their local water supply. By 1950, fluoride was added to the general formula. After WWII synthetic detergents replaced the soap in toothpaste.
Toothpaste and Cavity Prevention in Norwood, MA
Modern toothpaste is made of an abrasive like baking soda or chalk, a whitener, flavoring, a foaming additive and a binder. You can easily make your own toothpaste at home using a simple recipe. Just mix 3 tablespoons of baking soda, 1 tablespoon of salt, 3 teaspoons of glycerin, a dash of water and one teaspoon of peppermint. To find out more about taking care of your teeth, contact Central Dental Associates today for your twice yearly check up. Central Dental Associates proudly serve patients in Norwood, MA, Walpole, Westwood, Medfield, Dedham, and the surrounding communities.