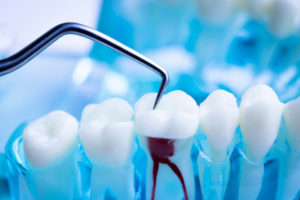 Did you know more than 15 million root canals are performed annually? That's about 41,000 procedures per day! Most root canals are done by general dentists, but some situations can require more expertise. You may be referred to an endodontist. Less than 3% of dentists are endodontists. They undergo advanced training in the diagnosis and treatment of tooth pain and root canal therapy. Here's why you may be referred to a specialist.
Endodontists Have Advanced Education
Endodontists complete 2-3 years of additional education after earning their dental degree. The advanced education program focuses on endodontics, which involves studying diseases of the dental pulp, the innermost layer of a tooth.
Endodontists complete about 25% of root canal treatments performed during any week. General dentists average 2 per week. Typically, general dentists focus on preventive care and diagnosing and treating common issues, like tooth decay and gum disease. Endodontists don't always perform regular cleanings and checkups or place dental fillings. They specialize in oral and facial pain.
Endodontists have also completed training in specific techniques to keep you comfortable during treatments. They have more training in numbing medications and sedatives. They can also provide you with pain management after your root canal.
Endodontists use state-of-the-art technology, like operating microscopes and digital imaging. They combine the latest innovations in dentistry to provide the advanced care needed to save an infected tooth from extraction.
What to Expect with Root Canal Therapy
After your initial consultation, you'll be scheduled for your procedure. Your endodontist will administer a local numbing agent to block any pain. You might feel some pressure or unusual sensations. They will use special dental instruments to open the crown of a tooth to gain access to the pulp and root chambers. They will remove decay and infected tissue. Once your tooth has been cleaned out, they will sterilize your tooth and seal it with a material called gutta-percha.
It's not uncommon to require a dental crown after root canal therapy. The customized cap is placed over a tooth to provide an added layer of protection. Your endodontist will use high-quality ceramic to create a crown that looks and feels natural, if necessary.
Although root canals have a bad reputation for being painful, you'll benefit from a pain-free solution to preserve your tooth. An endodontist will help you avoid the complications of tooth loss by restoring its health.
About Dr. Sarah Taylor
Dr. Taylor earned her dental degree at the Medical University of South Carolina and has continued her education in all aspects of dentistry, including oral pathology. She provides the advanced solutions patients need to keep their teeth and gums healthy. Request an appointment through her website or call (781) 769-3566.