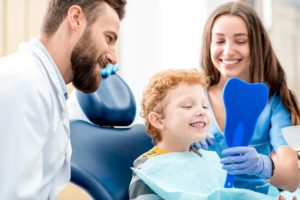 Life is busy when raising a family. No matter how hectic your schedule, your loved ones should see a dentist every 6 months for a cleaning and checkup. It can be stressful getting everyone to their appointments on time. What if there was a way to have everyone's oral health needs met at one location? A family dentist in Norwood is the solution to your problem. Here are 6 reasons to make the switch to a family-friendly dental practice.
1. Complete Services from One Location
You won't have to run to different dental offices anymore. A family dentist offers a broad scope of services for all age groups, including children. From cleanings and checkups to tooth extractions or dentures, all the services you and your loved one's need can be found under one roof.
2. Convenient Block Scheduling
You don't have to worry about taking several days off from work or pulling your children out of school multiple times because a family dentist can see everyone on the same day. Block scheduling allows everyone in your home to have their semi-annual cleanings and checkups on the same day to save time.
3. Personalized Plans for Each Family
Various factors affect oral health, including genetics and your environment. Taking your family to one dentist gives your dental team better insight into your loved one's oral health needs. They can identify potential concerns sooner to provide quick intervention through treatment plans catering to your family.
4. Generations of Healthy Smiles
Visiting a dentist regularly is just as important as brushing and flossing. With one dental team by your family's side over the years, you can encourage generations of healthy smiles. Research has found that children who visit the dentist regularly are more likely to commit to their dental health throughout their life. Your child can build a trusted relationship with their dental team from a young age to ensure their smile stays healthy and beautiful for a lifetime.
5. Easy Record Storage
You'll never have to spend time tracking down your family's dental records because everything will be kept in one location. This makes it easy to review everyone's oral health history while streamlining the process of insurance claims or specialist referrals.
6. Affordable Services
A family dentist strives to provide affordable services. Besides using your dental insurance, they also offer various financial solutions to keep dentistry affordable, even when money is tight.
A family dentist is a great way to simplify your life while giving your loved ones the best dental care. You'll enjoy added peace of mind and extra time in your day to focus on more important matters.
About Dr. Robert Stoddard
Dr. Stoddard earned his dental degree from Boston University and has continued his education in many specialties. He treats patients of all ages using the latest technologies and techniques for comfortable care. Dr. Stoddard provides complete services from one location to support health smiles in the Norwood community. If you're ready to switch to a family dentist, contact our office today.