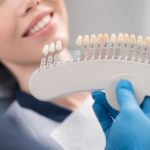 Having small or short teeth can make it difficult to chew, cause teeth grinding and trigger jaw pain. If you're able to dodge these functional issues, there is still the problem of smile aesthetics. Small teeth create an asymmetrical appearance. What causes this to happen, and is there anything that can be done about it? Continue reading to get answers from a local cosmetic dentist.
What Causes Small Teeth?
The technical term for small or undeveloped teeth is microdontia. There are three categories of the condition, as described below:
True generalized – All of the teeth are smaller than average. This is usually brought on by a condition called pituitary dwarfism (a growth hormone deficiency).
Relative generalized – Teeth may be normal in size but appear small in comparison to a larger than normal jaw, or the gums extend too far over the teeth.
Localized – This is the most common type of microdontia (usually seen in the upper teeth), where only one or several teeth are affected.
The good news is there is a way to create a more functional and attractive smile.
Porcelain Veneers for Better Symmetry
A form of cosmetic dentistry, porcelain veneers are thin ceramic shells that are custom designed to fit naturally into your smile line. A cosmetic dentist achieves this by ensuring that the veneers match the color and shape of the surrounding teeth. The veneers' low-profile, slim design allows them to mask smile flaws and create the appearance of larger teeth.
How the Procedure Works
Your dentist will first remove a thin layer of enamel (usually around ½ mm). This will allow the veneers to fit flush with your other teeth. Then, bite impressions will be taken and sent to a trusted lab that specializes in crafting veneers. This usually takes around two weeks to complete.
Meanwhile, you'll be fitted with temporary veneers that will protect your exposed teeth from any damage. During this time, it's best to avoid eating hard, crunchy, chewy or darkly pigmented foods.
When the finished veneers arrive, your dentist will place them using dental cement. Once they're in position, the final adjustments will be made, which may include perfecting the shape and alignment of the veneers to create an aesthetically pleasing smile.
Getting Started
The first step is to reach out to your local cosmetic dentist to schedule a consultation. After your smile is assessed, the dentist will work with you to develop a strategy for fixing your teeth and boosting your confidence. In just a few weeks, you could have a brand-new appearance!
About the Author
Dr. Robert L. Viventi earned his dental degree from Tufts University. Throughout a career that has spanned three decades, he has remained committed to expanding his knowledge even more by taking several hours of continuing education. Dr. Viventi uses porcelain veneers to create beautiful new smiles at Central Dental Associates, and he can be reached for more information or to schedule a visit through his website.