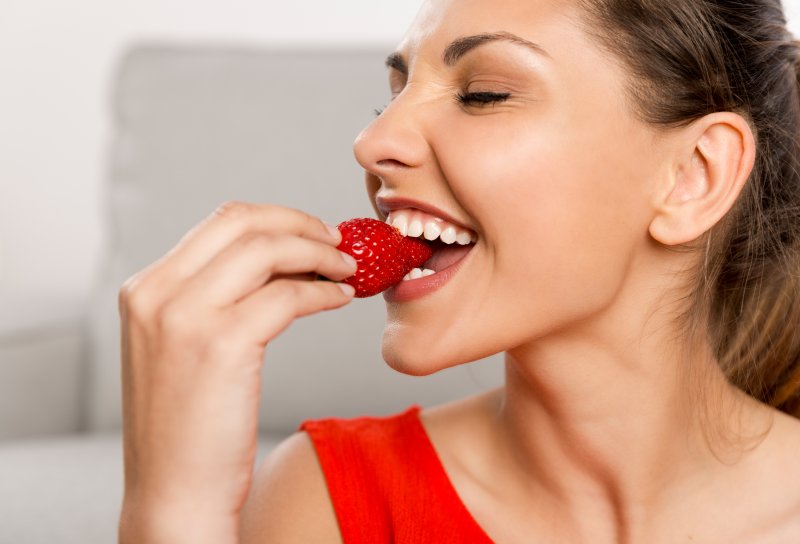 It's no secret that lots of our favorite foods and drinks can cause tooth discoloration. Coffee, tea, and red wine are just a few big culprits. Over time, you may notice your smile darkening if you consume these drinks regularly. Luckily, a professional teeth whitening treatment can help eliminate these stubborn stains. But once you have your new pearly whites, you're going to want to maintain your results.
Well, did you know some foods can actually whiten teeth over time? Read along to learn which ones not only offer nutritional benefits but can keep your grin bright after treatment.
Cauliflower and Broccoli
These two vegetables have whitening benefits when eaten raw. Since they're coarse and crunchy, they're perfect for chewing. Grinding up the veggies in your mouth helps strip superficial stains off your teeth. Additionally, the longer it takes to break down food, the more saliva you produce. It's good for your teeth because saliva is a natural cleanser that keeps your smile clean and bright.
Strawberries
Not only are strawberries tasty and nutritious, but they also pack lots of malic acid (an enzyme that naturally whitens teeth). They even contain the added benefit of ellagitannins, which are antioxidants that help reduce stain-attracting bacteria and inflammation in your mouth.
Instead of eating them, you can create a paste using strawberries to help brighten your teeth. If you're not convinced, try it out for yourself! Mash up the berries and rub them on your teeth. Leave for five minutes, rinse with water, then brush and floss as usual.
Yogurt, Milk, and Cheese
Dairy products, such as yogurt, milk, and cheese, contain lactic acid, which can protect your teeth against decay. Researchers believe that proteins in yogurt may bind to the teeth, preventing them from being attacked by the harmful acids that cause cavities. Moreover, hard cheeses are great to snack on because they whiten teeth and stimulate the production of saliva, which helps wash away food particles.
Pineapple
Pineapple is the only food that naturally contains bromelain, a compound with anti-inflammatory and cleansing properties. In addition to supporting healthy gums, it's also an effective ingredient used in stain-removing toothpaste. This tart fruit may also prompt the production of saliva, which keeps your teeth clean.
Celery
This fibrous vegetable is not just low in calories and rich in nutrients, but it can also keep your teeth and gums healthy. Chewing celery increases saliva production, which serves as the mouth's self-cleaning agent. Eating this crunchy veggie scrubs away debris, stains, and bacteria in your mouth, which can help improve halitosis (bad breath).
Regularly snacking on these foods will help maintain your beautiful pearly whites after a teeth whitening treatment. They're natural, delicious, and can improve the overall health of your mouth and gums, leaving you with a radiant smile you'll never stop showing off.
About the Practice
For over half a century, Central Dental Associates in Norwood has provided patients with comprehensive, state-of-the-art dental care. We have a team of five experienced dentistry professionals who work together to offer a wide array of services for patients, all under one roof. If you're interested in improving your smile, our safe and effective teeth whitening treatments can help you achieve your dream look. For questions on maintaining your results after treatment, contact one of our dentists via our website or call (781) 769-3566.