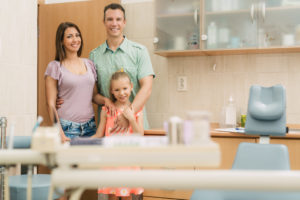 Whether you have just moved to town or your dentist recently retired, finding a new family dentist in Norwood can seem like a daunting task. You want the perfect combination of quality care, expertise and a warm and welcoming environment – but how? Do not worry, there is no need to stress out! Fortunately, many others have been in your shoes before and can share their knowledge. Case in point, here are 5 easy tips to find the best dentist for the whole family.
Check the Dentist's Website First
The simplest way to start your search for a new family dentist is by going online. Whenever you hear about a dental professional near you, visit their website to gather a first impression about their mission, values and services.
Is the dentist's website well-organized and easy to navigate? What services do they offer? Does the website include biographical information so patients can get to know the dentist ahead of time?
A dentist's website should also provide some insight into their level of expertise. Look for a list of professional organizations to which they belong, along with additional certifications, degrees or community recognition.
Read Online Reviews About the Quality of Care
In today's world, people leave reviews for more than just restaurants. Take some time to read reviews of dental offices left by current and former patients. Are the reviews mostly positive? Are there any reoccurring themes that jump out?
In most cases, you should be able to glean some valuable insights about the quality of care and level of expertise at the dental practice in question by checking their online reviews on Google, Yelp and other similar websites.
Ask for Recommendations from Friends and Neighbors
If you do not feel totally comfortable relying on the online community, consult with your friends or neighbors! You can always count on locals to give you unfiltered advice and trustworthy recommendations. Norwood parents that have had positive experiences with a local dentist will likely suggest that same trusted professional to their friends and family.
Pick a Practice that Offers Family-Friendly Hours
One of the biggest advantages of going to a family dentist is not having to keep up with multiple dental appointments in different parts of town.
Many family dentists offer what is known as block scheduling. Block scheduling is a convenient way for families to plan every member's appointment within the same window of time on the same day.
Schedule a Brief Consultation
If you find yourself unable to choose between one or two highly-recommended dentists, reach out to schedule brief consultations. Most dentists are happy to meet with new potential patients and answer any questions they may have.
When you visit a dentist for the first time, pay close attention to the atmosphere of the waiting room, the attentiveness of the staff and the cleanliness of the environment. If you and your family feel comfortable, safe, and welcome, then you may have found a winner!
About the Practice
Families in Norwood and the surrounding communities have turned to Central Dental Associates for quality dental care since 1965. The experienced and welcoming dentists and staff make sure each patient, from grandparent to grandchild, is comfortable throughout their visits. For more information about block scheduling and other family-oriented dental services in Norwood, visit the Central Dental Associates website or call 781-769-3566.