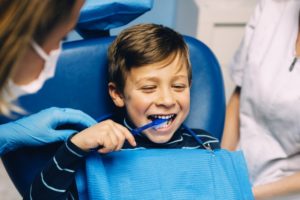 Buying school supplies isn't the only thing you need to do to make sure your little one is ready for the upcoming school year. According to the American Dental Association, dental checkups are just as important as getting a routine physical exam from their primary care doctor. Since you're already making a list of things you need to do before school starts, why not add "see my family dentist in Norwood" to that list? Here are 3 reasons why your kid's smile can benefit from a checkup.
Protect Little Teeth with Mouthguards
If your little one is trying out for sports this school year, you're probably over the moon. After all, they're going to be making friends, getting exercise, and having the time of their life. As a parent, however, you might be just a little worried about them getting hurt. You make sure they wear their helmets and kneepads, but a lot of parents send their children to play sports without wearing a mouthguard. Your Norwood family dentist can craft a custom mouthguard designed to protect your little one's unique smile and keep those precious pearly whites in good shape.
Make Teeth Stronger with Fluoride
Most tap water contains fluoride, a naturally occurring mineral that strengthens our teeth and prevents them from getting cavities. However, since a lot of us opt to drink tap water, we lose out on the chance to make our teeth stronger. This is where your dentist comes in. He or she can determine whether your child's teeth would benefit from a fluoride treatment. If so, then after your kid's teeth get cleaned, the dental hygienist can rinse their mouth out with fluoride that comes in a variety of fun flavors. It never hurts to protect against tooth decay.
Fight Cavities with Dental Sealants
Speaking of tooth decay, many children would greatly benefit from getting dental sealants. This is a plastic-like coating that is painted onto the grooves of the back teeth. Little arms sometimes have a difficult time reaching to brush these nooks and crannies. As a result, particles of food and bacteria can get trapped there and cause cavities. To prevent this, your dentist can place sealants on those little molars to protect them for years to come.
As you can see, there's no shortage of reasons to visit your family dentist before school starts. Make sure your child's teeth are bright and ready for the school year.
About the Practice
At Central Dental Associates in Norwood, MA, we have an experienced team of five dentists, all with expertise in different areas of dentistry. We treat patients of all ages, and especially welcome young smiles. To learn more about why you should visit us, click here or call (781)-769-3566.