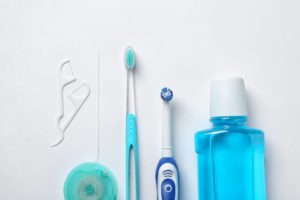 Should you put on your left or right shoe first? Are you supposed to wash your hair before your body? There seems to be an unending list of how to do your daily routines right and the debate over brushing or flossing your teeth first is no different. Luckily, your Norwood family dentist is here to answer the question once and for all.
Why Is Brushing and Flossing so Important?
To begin to answer the brushing versus flossing first debate, you need to understand why both steps are important in the first place. Brushing your teeth removes bacteria, promotes tooth remineralization, polishes stains, freshens your breath and much more. While you may think that you can get away with just brushing your teeth, flossing is a crucial step in your oral hygiene routine. It removes hard-to-reach plaque and food particles that your brush cannot reach.
Which Should You Do First?
Some dentists argue that you should floss first to loosen food particles and plaque between your teeth, making it easier to brush them away. Others argue that brushing first will remove the vast majority of plaque on your teeth. Flossing after will then force the leftover fluoride from your toothpaste into tiny spaces in your mouth that are otherwise unreachable.
Both arguments have valid points, but which is right? It turns out that the brushing versus flossing first debate is actually a trick question: it doesn't matter. The sequence makes no difference as long as you do a thorough job. Use whichever method you prefer or alternate between both!
How to Brush and Floss Right
Now that you know that you should focus on how you clean your teeth, make sure that your daily routine is enough. Your family dentist in Norwood recommends these brushing and flossing techniques:
Choose a soft bristled toothbrush that is comfortable for your hand and mouth
Gently and thoroughly brush your teeth, gums, inner cheeks, tongue and the roof of your mouth for two minutes, twice a day
Use nylon or single filament floss daily
Slide the floss up and down between your teeth and gently curve it around the base of the teeth
Continue to use clean sections of floss on each tooth
It may feel like you've been nagged about brushing and flossing your teeth since childhood, but these steps in your daily hygiene routine really are essential. Talk to your dentist in Norwood for more tips on your technique.
About the Author
At Central Dental Associates, Dr. Robert Stoddard has almost 30 years of dental experience. He cares for patients of all ages and medical needs. If you have further questions about oral hygiene techniques, he can be reached through his website or at 781-769-3566.