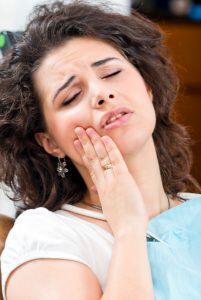 It starts off with sensitivity to hot or cold, but it goes away, so you don't think much about it. Soon you're feeling pain more often, but Ibuprofen takes care of it. The next thing you know, you're waking up at night with constant and pretty severe pain that makes it hard to sleep, now your tooth has your attention! Pain like this typically indicates an abscess, which is an infection of the root in your tooth. This is not pain you should overlook, and it's important to understand the dangers of ignoring an abscessed tooth.
How is an Abscess Treated?
The first fact you should know is that a dental infection won't go away on its own, so waiting for it to get better isn't an option. If it's left untreated, the infection will progress and could lead to tooth loss. It will also continue to cause severe pain, and could spread to other critical areas of your body such as your brain. Root canal therapy could preserve your tooth, and calling your trusted team at Central Dental Associates is what you should do next.
What is Root Canal Therapy?
Our endodontist (root canal specialist) will remove the infected tissue within your tooth from an access hole in the top. Once the infection is completely eliminated, we'll seal your tooth with a temporary filling and allow it time to heal. After your tooth recovers, you'll return to our office so your dentist can build it back up with a permanent filling or dental crown.
Does a Root Canal Hurt?
Unfortunately, root canal therapy has a bad reputation because most patients associate the treatment with pain. Did you know however, that it's actually your infection causing the pain? A root canal will alleviate your pain and save your tooth!
Our endodontic specialist, Dr. Maryam Shomali, is highly skilled, caring and gentle, so you can rest assured that you're in expert hands for your root canal therapy. Dental anesthetics will immediately eliminate your pain and ensure that you don't feel anything during your treatment, and most patients are pleasantly surprised at how comfortable their procedure is.
Contact Central Dental Associates
Your highly skilled dental team at Central Dental Associates is here for you, so if you're experiencing dental sensitivity or pain, please don't hesitate to call your Norwood dentist! We'll do our best to see you the same day for treatment, and our convenient early morning, evening, and weekend appointments will accommodate almost any schedule. We'll get you feeling comfortable and back on the path to wellness again in no time.