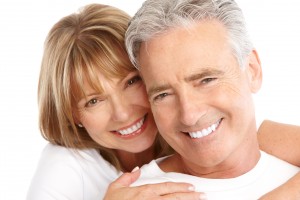 Do you wear dentures, or do you know someone close to you who wears dentures? If so, then you know they can cause some embarrassing moments. Like when you're about to take a bite of food and all of the sudden your top dentures drop. Or when you're talking and your speech is interspersed with the clicking sound of loose dentures. Or how about when… well, you get the idea. If you're thinking this something that you just have to live with, then think again. Dental implants can be used in conjunction with dentures. With dentures and implants from the dentists at Central Dental Associates– Dr. Robert Viventi, Dr. John Maheu, Dr. Maryam Shomali, Dr. Caroline Faris and Dr. Thomas Parsi—you can forego the problems of wearing dentures and enjoy all of the benefits.

A Secure Smile from the Dentist Norwood, MA, Trusts
Dentures and dental implants are also called implant retained dentures. As such, they use the security of dental implants to hold your dentures in place. Whether you want to use the dentures you have, or if you need new dentures, we can make sure your smile does not give you any trouble. At Central Dental Associates, we have implant specialists who will handle each step of you implant procedure. First, a biocompatible titanium post is surgically placed at strategic points along your upper and lower arch. As you heal from this surgery, the post and your bone tissue fuse together to create the firm foundation for your dentures. Once you've completely healed, you'll return to our office and we'll attach the dentures to the dental implants.
Our dentists will consult with you and together you will decide if a removable or fixed denture is best for your situation. If you're going to wear removable implant retained dentures, then you'll want to take them out after meals for cleaning and then clean them and leave them out while you sleep. Alternatively, fixed dentures remain in your mouth all day every day. Essentially, you treat them just like natural teeth, brushing and flossing your dentures daily. Because they are fixed, these dentures most closely resemble the look and feel of natural teeth. If they do need repair or adjustment, our dentists can remove them without damaging the implants.
Call Our Office Today
If you would like to learn more about how dental implants can give you the confidence you've always wanted with you dentures, then call the office of Central Dental Associates. We are the general and cosmetic dentist Norwood, MA, turns to for happy and healthy smiles.  We're located in Norwood, MA, at Chestnut Green, convenient to patients from Walpole, Westwood, Medfield, Dedham, and surrounding areas.