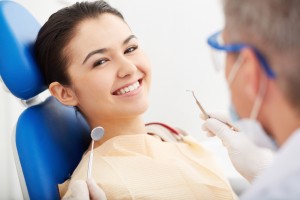 Whenever it comes to anything you own, there are certain things you have to do to maintain and upkeep the appearance. Cars have to be washed, and silver has to be polished, all in an effort to make sure they look their best. Believe it or not, your smile is no different. Regular dental checkups are a key point in making sure your smile is healthy and beautiful. At Central Dental Associates, we want to make sure your smile is the best it can be, our doctors are able to deliver just that!
The reason why dental checkups are so important is because it gives us the opportunity to stop an issue before it turns into a serious problem. If your gums and teeth are in bad shape, the rest of your body is as well, so it is vital to make sure everything works in tandem to make a healthy you! When you come in for your appointment, our doctors will inspect every single tooth, leaving no stone unturned in looking for any signs of decay, cracks, or anything else that has the possibility of going wrong.  If any of your old dental work is in need of restoration, we are able to offer tooth-colored options, as to make your smile seamless!
We will clean your teeth, removing any plaque and tartar that have the potential of harming your smile. At the end of the appointment, your mouth will feel clean and better than ever! If you are ready for your dental checkup, make an appointment, and let us cater to your smile!
Visit our contemporary practice and learn why Central Dental Associates has been Norwood's premier choice for family and restorative dentistry since 1965. We're located in Norwood, MA at Chestnut Green, convenient for patients from Walpole, Westwood, Medfield, Dedham, and surrounding areas. Call us today!