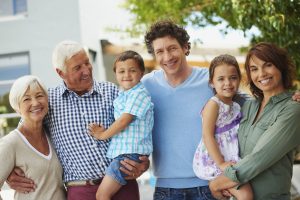 Take a look at the homepage of our website and you'll see a photo of a happy family strolling hand-in-hand: grandma and grandpa, mom and dad, son and daughter. This picture truly represents the breadth of care you'll receive from your Norwood family dentist at Central Dental Associates. Our dentists and their team are capable of caring for smiles of all ages. So whether your son or daughter needs a tooth-colored filling, you need a dental crown or a senior parent needs new dentures, we are able to deliver the best service for your optimal smile.
Preventive Dentistry
Whether a patient is five or 95, a dental checkup is always important. At these twice-yearly appointments, the family dentist in Norwood provides a thorough cleaning and examination of your teeth and gums. The cleaning will leave your mouth feeling refreshed and revived. And the examination helps you avoid problems such as cavities and gum disease. In addition, the ADA recommends that dentists also take a blood pressure reading at the start of each checkup. You'd be surprised to know how many dentists are the first healthcare providers to discover that a patient has hypertension, or high blood pressure. In this way and others, your dentist contributes to your overall well being in addition to your oral health.
Restorative Care in Norwood
Once again, our dentists are skilled and equipped to care for a smile in need of repair regardless of the patient's age. For example, children, teenagers and adults are susceptible to tooth decay. Despite regular brushing with fluoride toothpaste and stringent flossing, there are always bacteria in your mouth. These tiny troublemakers can become trapped in the crevices of your molars where they begin to excrete acid and others toxins that can erode tooth enamel. A tooth-colored filling seamlessly repairs the cavity and blends in completely with the natural color of your tooth.
For a tooth in need of more serious repair, we offer dental crowns. These are made of fine dental porcelain and are formed to fit snuggly over a tooth that is severely decayed or otherwise damaged. Your Norwood family dentist will gently remove a small portion of the tooth's natural structure in order to make room for the crown to fit comfortably.
Replacing Missing Teeth
Nearly 178 million adults in America are missing at least one tooth. And while tooth loss can happen at any age, the fact of the matter is that it occurs most often among the senior population. To replace missing teeth we offer:
Fixed Bridges
Partial Dentures
Full Dentures
Depending on the extent of your tooth loss, one of our dentists will be able to recommend the best tooth replacement option for your lifestyle.
Call Our Office Today
If you would like to schedule a dental checkup or another type of appointment for any member of your family, please contact Central Dental Associates in Norwood, MA.