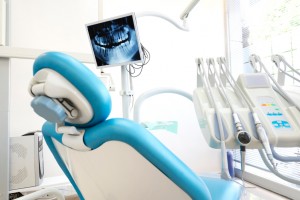 At Central Dental Associates, we've got a team of experts working together to provide excellence in dentistry — and we're happy to announce we've just added Dr. Robert Stoddard as the sixth dentist at Central Dental Associates! He adds his significant experience and skill to our practice, where Norwood patients know they can find comprehensive dental care for smiles of all ages.
Meet Dr. Robert Stoddard
Dr. Stoddard has almost 30 years' experience providing dentistry in Norwood. He owned and operated Dr. Paul V. Riley's dental practice before making the move to Central Dental Associates. Dr. Stoddard is committed to following the latest trends and staying up-to-date in all that modern dentistry has to offer.
In addition to his significant experience in dentistry, Dr. Stoddard has a bachelor's degree in English from Tufts University, and served in the United States Army from 1975-1978. When he's not busy building healthy, beautiful smiles, Dr. Stoddard enjoys beekeeping, writing, reading, watching films, and farming.
Dr. Stoddard's addition to Central Dental Associates adds to the level of care we offer our patients. For general, preventive, and family dentistry in addition to cosmetic, periodontal, and implant services, patients in Norwood know they can count on our team for superb dental care.
Comprehensive, Quality Dental Care
When was your last preventive dental checkup and cleaning? We like to take every opportunity to remind patients that regular preventive dental care is absolutely crucial for maintaining healthy teeth for a lifetime. When you keep up with your twice-annual visits to Central Dental Associates, you're benefitting from a whole list of preventive services, including:
The thorough removal of plaque and tartar buildup, the leading factors in tooth decay and gum disease
Probing to assess the health of your gums
X-rays to catch potential decay lurking below the surface
An examination of existing dental work, like your old fillings, crowns, and bridges
Fluoride treatments and dental sealants for children
An oral cancer screening for adults
If we do detect an issue with the health of your teeth or gums, we are equipped with services in restorative dentistry to get your smile back to its original health. Tooth-colored fillings, periodontal therapy, and other treatments can come to the rescue when cavities or gum disease occur.
Schedule Your Appointment Today!
If you're in need of general, restorative, cosmetic, or implant dentistry, don't wait to get in touch with Central Dental Associates. Please contact us to schedule a visit with Dr. Stoddard or another one of our expert dentists — we just love seeing your smile. Request your appointment today!